Innovative Minds: Shriyadita
Takoma Park Middle School | 7th grade | 13 years old
Empowering Communities to Monitor Local Watersheds for Rapid Response
About the Idea
I have created a cheap stream water monitoring device using an open source "Arduino" electronics board to measure the turbidity, temperature, and pH of the water, and hope to send the data that is collected from the sensors into a server so everyone can access it via a webpage or a phone app.
Why did you enter the 3M Young Scientist Challenge?
I love science from a very young age and love to interact with others like me. Also, I am always looking for ways to help the community and the environment. I have been developing this project on water quality monitoring for a little over a year now, and when I heard about 3M Young Scientist Challenge from a friend, I immediately became interested to enter the competition to get feedback on my work.
What is your favorite invention of the last 100 years, and why?
My favorite invention of the last 100 years is Artificial Intelligence (AI). I find it very fascinating for a technology to be able to simulate human intelligence. Before AI, machines were controlled by humans, or at most, followed a simple logic. AI is the first type of technology that, once trained, does not rely on human input and can "learn" on its own over time. Although we have not perfected AI technology yet, it is being used in self-driven cars, robotics, medicine, and many other fields. This excites me as the applications of AI in the future is limitless.
In 15 years I hope to be...
A biomedical engineer, creating AI-based technology that will be able to prevent and detect diseases before it becomes a major problem.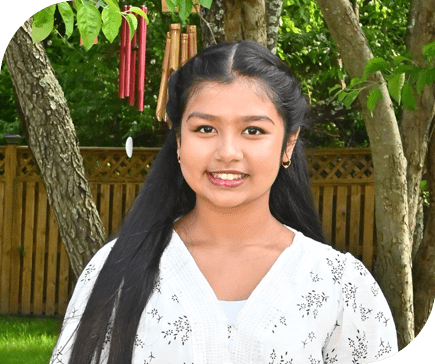 "Science is just like the director of life: it sits behind the scenes, guides the creative vision of what everything does, and exerts profound influence over scientists to act."